This Majorca 7-day itinerary is a part of our broader travel guide for the islands of Majorca and Menorca. We recommend you check it out for the best travel tips and the most accurate information on transportation, hotels, restaurants and best beaches in Majorca and Menorca.
Majorca 7-Day Itinerary – What to See and Do in 1 Week
As the largest island in the Balearic archipelago, it's no surprise that Majorca offers an abundance of places to explore, cities to visit and beaches to relax on. From its fabulous coastline, with magnificent sandy beaches and turquoise waters, to the remote corners of the Serra de Tramuntana, where you can find some of the most beautiful and authentic towns in Majorca, the truth is that there is plenty to choose from. The only question is, where do you start?
So without further ado, here are the cities, beaches and attractions that you simply can't miss on our Majorca 7-day itinerary:
Majorca 7-Day Itinerary – Day 1: Palma de Majorca
Let's kick-off our Majorca 7-day itinerary with a stroll through the island's capital of Palma! Although Majorca is mostly renowned for its stunning beaches, Palma is actually packed with plenty of cultural and historical gems that are definitely worth exploring. To get acquainted with the city's lively pedestrian streets, we recommend wandering through the historic centre and taking in the major sights, such as Plaça Major, Plaça d'Espanya, or Passeig del Born.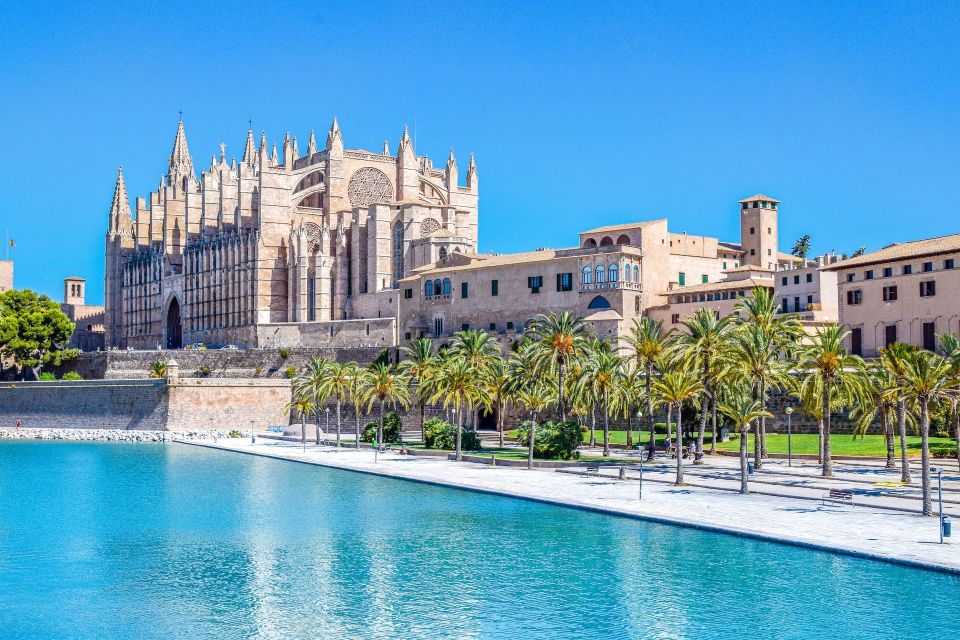 As you get closer to the port and the marina, you'll come across the impressive Cathedral of Santa Maria of Palma, the city's most iconic building. Its sheer size is hard to ignore, but it certainly helps visitors understand why it took about 400 years to complete. Next to it, you'll find the beautiful S'Hort del Rei Park and the Royal Palace of La Almudaina (7,00€), originally built by the Romans and later repurposed by the Arabs. Today, it serves as one of the official residences of the Spanish royal family. From the upper floors of the palace, you'll be treated to stunning views of the bay. As you continue your journey, you'll gradually move away from the city center until you reach Bellver Castle (4,00€), one of Palma's most popular attractions. This round-shaped castle, one among the very few in Europe, offers a unique historical experience, complemented by breathtaking views. Finally, wrap up your first day by visiting the Mirò Mallorca Foundation (9,00€), the highest-rated museum on the island!
First day wrap-up:
Plaça Major
Plaça d'Espanya
Passeig del Born
Cathedral of Santa Maria of Palma
S'Hort del Rei Park
Royal Palace of La Almudaina
Bellver Castle
Mirò Mallorca Foundation
Cheap restaurant suggestions in Palma de Mallorca:
Majorca 7-Day Itinerary – Day 2: Puerto Portals and the Surrounding Beaches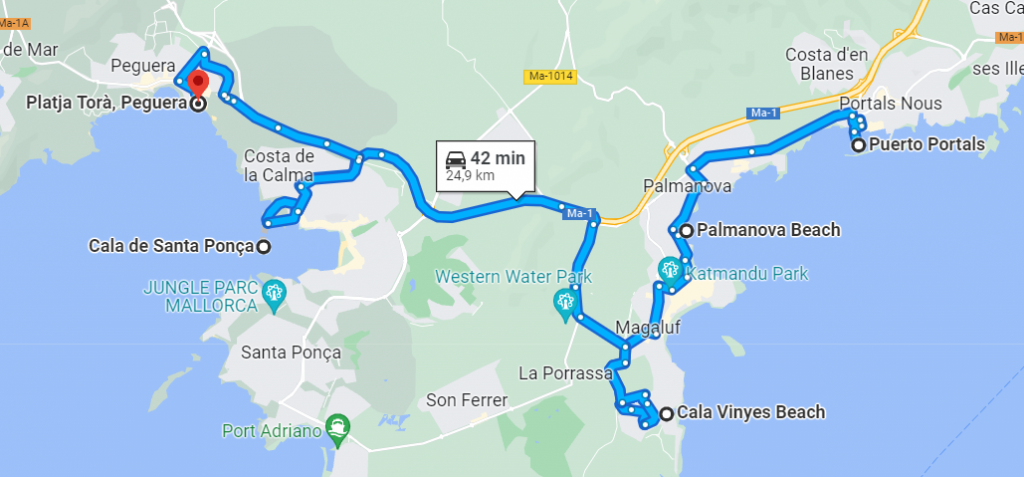 Welcome to day two of your Majorcan adventure! Today, we're starting off in the charming coastal town of Puerto Portals, a favorite among the jet set and upper crust of Spanish society. As we make our way towards the exclusive marina, it's worth engaging in some window-shopping and exploring all the trendy boutiques, restaurants and bars in the area. After a leisurely stroll along the promenade, we're ready to explore the nearby beaches. Our first stop is Palmanova Beach. Despite being located right next to Magaluf, which is famous for its nightlife and rowdy atmosphere, this beach is surprisingly peaceful, and an ideal option for families who don't want to venture too far away from all the amenities and services.
But that's just the beginning! From here, we'll discover some of the more secluded and lesser-known beaches in the region, such as Cala Vinyes, Cala de Santa Ponça, and Torà Beach. Although not as isolated and remote as some of the beaches you'll find later on in the north of the island, they are still nothing short of stunning. With crystal clear waters and picturesque views, it's a fitting introduction to Majorca's natural beauty.
Second day wrap-up:
Puerto Portals
Palmanova Beach
Cala Vinyes
Cala de Santa Ponça
Torà Beach
Cheap restaurant suggestions between Puerto Portals and Magaluf:
Majorca 7-Day Itinerary – Day 3: From the Soller Train to Valldemossa
As mentioned in the transportation section above, we highly recommend taking the scenic route from Palma de Mallorca to Soller aboard the Tren de Soller. These historic train's carriages date back to 1912, as the line winds its way through the stunning Serra de Tramuntana mountains, offering one of the most beautiful rail journeys in Europe. Upon arriving in Soller, take a walk through the charming town, centered around Plaza de la Constitución, and visit the Church of Saint Bartholomew, before embarking on the famous Fornalutx hike, arguably the most famous marked trail on the entire island. The 2-hour (round trip) trail takes you past the Monastery of Sa Capelleta and offers breathtaking views of the "Valley of Oranges," named after the area's extensive orange groves. After your hike, take some time to relax in the gorgeous town of Fornalutx, recognized as one of Spain's most picturesque villages.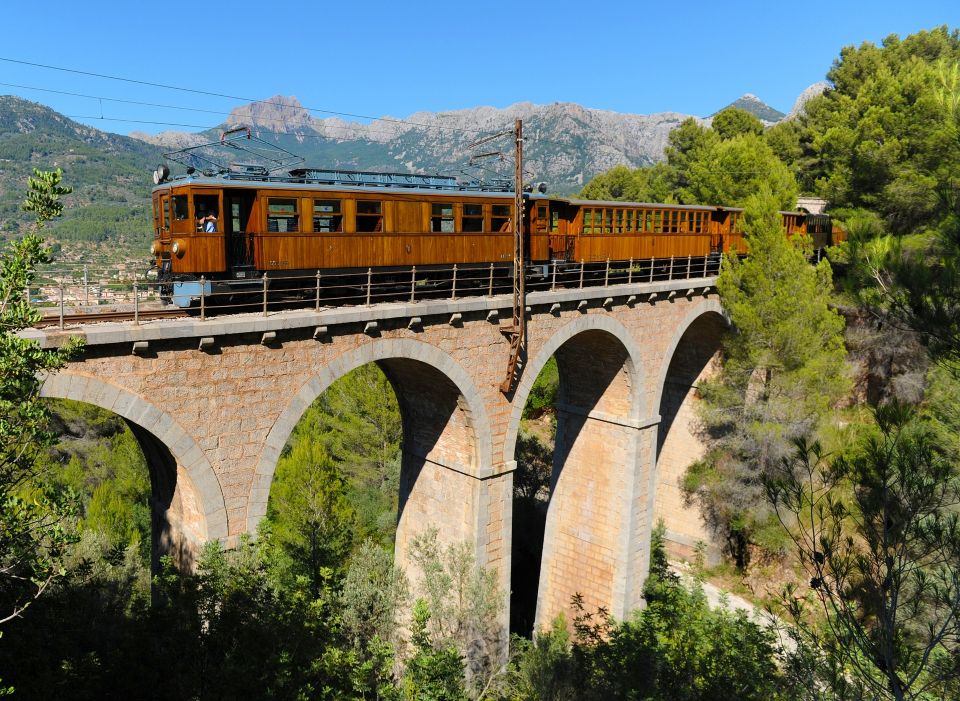 After lunch, make your way to Valldemossa, stopping at the picturesque Alfábia Gardens (7,00€) along the way. Located high in the Serra de Tramuntana, the charming village of Valldemossa is a tiny-yet-gorgeous maze of narrow streets, old houses and cobbled streets. Furthermore, its incredible setting cannot be overstated, with the island's highest peaks on one side and the vastness of the Mediterranean Sea on the other. Take time to explore the stunning Carthusian Monastery and enjoy a well-deserved ice cream break in the ever-relaxed Plaza Ramon Llull, before starting your descent towards the coast and the Port of Valldemossa. As the afternoon wears on, take a refreshing dip in the tranquil Cala Deià, one of the quietest beaches in the region, which is nestled among the pastel-colored houses and green hills of the equally beautiful village of Deià.
Third day wrap-up:
Soller Train
Soller
Plaza de la Constitución
Church of Saint Bartholomew
Monastery of Sa Capelleta
Fornalutx
Alfábia Gardens
Valldemossa
Carthusian Monastery
Plaza Ramon Llull
Port of Valldemossa
Deià
Cala Deià
Cheap restaurant suggestions in Soller and Valldemossa:
Majorca 7-Day Itinerary – Day 4: Formentor Peninsula
Moving forward with our one-week itinerary of Majorca, this day will take you to the dramatic Formentor Peninsula, at the northernmost tip of the island. But before you get there, you'll pay a visit to the stunning town of Alcúdia, considered by many to be the most beautiful city in Majorca. With its walled old town, charming medieval streets and multitude of Renaissance palaces, this is an absolute must-see. While exploring Alcúdia, don't miss out on the Bastion of San Ferran, the Alcúdia City Walls, the Church of Saint Jaume or the Chapel of Saint Christ.
Afterwards, you'll make a detour to the town of Pollença before heading to the peninsula. A prime example of yet another charming Majorcan village nestled between the mountains and the sea, Pollença is known for its Calvary Chapel, which is separated from the old town by a long 365-step staircase. Descending to the Port of Pollença, where you can enjoy a light lunch by the sea, it is then time to finally set foot in the Formentor Peninsula, famous for its lush landscapes, panoramic viewpoints, and, of course, idyllic beaches! Among the wide selection of local beaches, we recommend sticking to Formentor Beach. As the day draws to a close, there's nothing better than watching the sunset from the Lighthouse of Cap Formentor, said to be one of the best and most atmospheric on the island.
Fourth day wrap-up:
Alcúdia
San Ferran Bastion
Alcúdia City Wall
Church of Saint Jaume
Chapel Saint Christ
Pollença
Old Town Polença
Calvary Chapel
Port of Polença
Formentor Peninsula
Formentor Beach
Lighthouse of Cap Formentor
Cheap restaurant suggestions in Alcúdia and Pollença:
Majorca 7-Day Itinerary – Day 5: Artà
The sun rises and it's time for yet another trip – this time to the charming town of Artà! Its name has roots in the Arabic word for "garden," so one can only imagine how beautiful and atmospheric the whole place really is. Located in a fertile valley, Artà is known for its abundance of groves and fruit trees, which perfectly complement the tranquility of its streets. That being said, start your journey by climbing up to the San Salvador Sanctuary, built inside an ancient fortress. Then, make sure to visit the Church of the Transfiguration of the Lord and the Convent of Sant Antoni de Pádua, two of the most important religious sites in Artà, as well as Na Batlessa, one of the oldest and most impressive manor houses.
While you're in the area, it's worth driving to the Monastery of Santa Maria de Bellpuig and taking a detour to the Ses Paisses Archaeological Monument. This prehistoric village features several talayots, megalithic structures that are over 3000 years old and were likely used as fortifications, residences or even tombs. Finally, to cap off your day in a high note, head to the stunning Cala Mesquida, a wide beach with fine sand surrounded by dunes and pine trees – the perfect place to take a dip and relax after a day of exploring.
Fifth day wrap-up:
Artà
San Salvador Sanctuary
Church of the Transfiguration of the Lord
Convent of Sant Antoni de Pádua
Na Batlessa
Monastery of Santa Maria de Bellpuig
Ses Paisses
Cala Mesquida
Cheap restaurant suggestions in Artà:
Majorca 7-Day Itinerary – Day 6: The Cala from the Southeast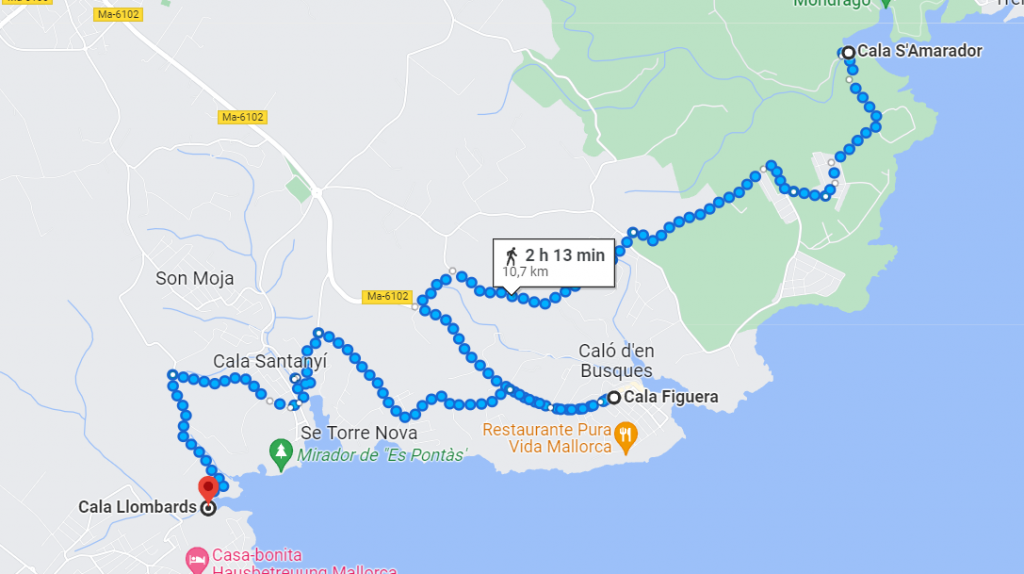 If you came to Majorca to enjoy its stunning scenery and dreamy beaches, then I dare say that this day will be right up your alley! After all, the best beaches in Majorca are precisely located in the southeast of the island, an area where several coves cut through the coastline, creating small and secluded pieces of heaven for the delight of vacationers from all around the world. While exploring the area, these are the beaches you shouldn't miss:
Cala Ferrera
Cala S'Amarador
Cala Figuera
Cala Llombards
Caló des Moro
Some of them are part of the Mondragò Natural Park, which means they are officially designated as protected areas. One thing to keep in mind is that you can walk along hiking trails between some of these beaches, without having to backtrack your way to the paved road and cover larger distances by car. Obviously, this isn't an option if you want to see them all, since you'd have to walk some mind-boggling 26 kms. However, it can be an excellent leisurely walk, with many interruptions for a dip along the way, if you limit yourself to the 3 beaches in the middle of the list (around 10km).
Sixth day wrap-up:
Cala Ferrera
Cala S'Amarador
Cala Figuera
Cala Llombards
Caló des Moro
Cheap restaurant suggestions along the Southeastern Coast:
Majorca 7-Day Itinerary – Day 7: Idyllic Beaches
As we reach the end of our Mallorca 7-day itinerary, we bid you farewell with yet another spectacular day of beach-hopping, before the inevitable return to Palma. This time, you will visit three beaches on the south coast of the island as you approach the capital.
Without further ado, your first stop will be Cala Pi, a small cove whose waters resemble the wadis of the Middle East, with the course of the water slowly winding its way through the cliffs. Although it is an extremely picturesque location, please note visitors must climb a long and steep staircase in order to access the beach. For a slightly more isolated experience away from mass tourism, Cala Blava is an excellent choice. Still relatively unknown, which is why it is generally much emptier and quieter than its counterparts, it is just another example of the ridiculous diversity of good beaches that Majorca has to offer! If, by the end of the day, you still have the time and the energy to add one last stop to the itinerary, say goodbye with a final dip at S'Arenal Beach, less than 20 km away from Palma.
Seventh day wrap-up:
Cala Pi
Cala Brava
S'Arenal Beach
Main photo: Unsplash
This post contains links to products from our advertisers. We may receive compensation when you click on these links. There are no additional fees for you.

Copyrighted 2023 by kamaviNET sp. z o.o. Please be aware that this article and whole website is copyrighted. No part of this publication may be reproduced, distributed, or transmitted in any form or by any means without the prior written permission of the publisher.