This Menorca 5-day itinerary is a part of our broader travel guide for the islands of Majorca and Menorca. We recommend you check it out for the best travel tips and the most accurate information on transportation, hotels, restaurants and best beaches in Majorca and Menorca.
Menorca 5-Day Itinerary – Where to go in 5 days
Often overshadowed by its neighbor Majorca, the small Balearic Island of Menorca is a hidden gem waiting to be discovered. As a UNESCO Biosphere Reserve, this beautiful island is internationally recognized and protected for its natural beauty, pristine beaches, turquoise waters and natural parks. As you can see, there is plenty enough to keep you entertained!
So, without further ado, let us introduce you to the cities, beaches and attractions that you should visit on our Menorca 5-day itinerary:
Menorca 5-Day Itinerary – Day 1: Mahon
It's time to kick-off our adventure in Menorca! And what better way to immerse yourself in the island than by visiting its capital, Mahon, and its surroundings, where you can find fortresses, castles and even islands with a dark past. Once you arrive in Mahon, we recommend taking a stroll through the historic center to unwind and enjoy the views of the port area. For the best views, make sure to stop at the Pont des Castell Viewpoint, before visiting the Church of Santa Maria de Mahon and the Teatro Principal (5,00€ for a guided tour), which, quite unexpectedly I must say, turned out to be one of the most beautiful theaters in the Mediterranean. Once hunger strikes, head down to the Port of Mahon and check out all the fish and seafood restaurants in the area.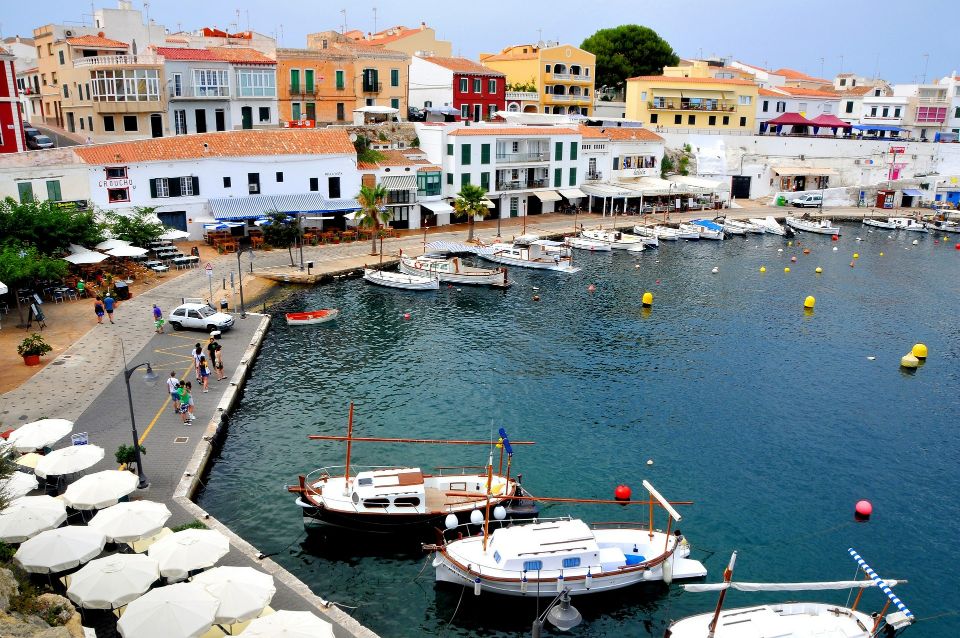 For the remainder of the day, you explore the opposite shore of the port, starting with a visit to the famous Lazareto of Mahon (18,00€). Located right in the middle of an islet, this building used to serve as a quarantine center. Since Mahon was home to the easternmost port in all of the Mediterranean, most ships coming from Africa used to stop here, bringing crew members who, unfamiliar to the reality and diseases of these exotic places, were often infected with foreign diseases such as bubonic plague, yellow fever or leprosy. If you're a fan of bizarre and obscure places, this one's for you! You can book a guided tour at the Mahon Tourist Information Center. Finally, your last stop of the day will be at the La Mola Fortress (8,00€), a gigantic 19th-century defensive structure with extraordinary panoramic views, and a set of pretty interesting underground chambers and tunnels.
First day wrap-up:
Mahon
Pont des Castell Viewpoint
Church of Santa Maria de Mahon
Teatro Principal
Port of Mahon
Lazareto of Mahon
La Mola Fortress
Cheap restaurant suggestions in Mahon:
Menorca 5-Day Itinerary – Day 2: Villages, Forts, Ruins and Sand
On your second day in Menorca, get ready for a diverse range of attractions and activities catering to every taste. You'll start in the charming fishing village of Binibeca, located in the southeast of the island. Known as "White City" due to the homogenous white color that covers almost all of its buildings, Binibeca is an incredibly beautiful and photogenic place, despite having been purposely built for tourism back in the 70s. However, one can't deny how gorgeous the town looks! Moving north, you'll visit the Marlborough Fort (3,00€), a fortress built by the British to help protect and monitor the entrance to the lucrative Port of Mahon.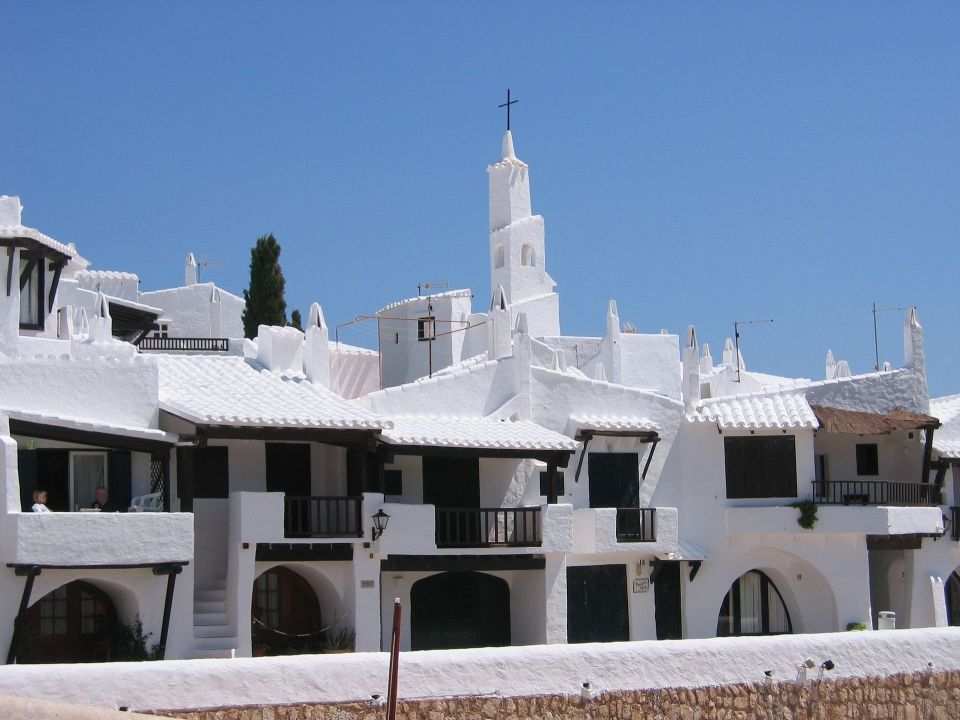 From there, you'll make your way to the village of Son Bou, famous for its local beach. Regardless, your journey will have at least two strategic stops! The first one will take place in Torralba d'en Salort (4,00€), a Menorcan prehistoric town where you can find several ancient constructions such as tombs, houses, walls and even silos! Just 8km to the south, we also recommend a visit to Torre d'En Galmés (3,00€), another 3000-year-old settlement where you can explore the ruins and learn more about the pre-Roman history of the Balearic Islands. Finally, now that you've had your fill of the historical and cultural sights, it's time to take your first dip in Menorca's world-famous turquoise waters! For that, we invite you to visit Son Bou Beach, the largest on the island. While the eastern side of the beach has all the amenities you could ask for, the western side is much quieter and undeveloped, perfect for a more intimate and secluded atmosphere.
Second day wrap-up:
Binibeca
Marlborough Fort
Torralba d'en Salort
D'en Galmés Tower
Son Bou Beach
Cheap restaurant suggestions between Binibeca and Sant Bou:
Menorca 5-Day Itinerary – Day 3: Ciutadella
Much like the day before, today will also be filled with a mix of attractions and landmarks that are sure to please different kinds of travelers. However, if yesterday started with history/culture and ended at the beach, today will be the other way around! You'll begin by exploring the southwest coast of Menorca, famous for its hidden bays and hiking trails. We recommend visiting at least three beaches in the region: Cala Mitjana, Cala Macarelleta and Cala Turqueta. It's important to note that driving between these beaches will require a detour of 40 km (50 minutes by car), since the access paths are not suitable for road traffic. Even if you choose to take the car, you'll have to park it at least 15-20 minutes away from the beaches. Alternatively, you can park your rental in Cala Galdana and hike along the pedestrian paths between the beaches. The total distance between Cala Mitjana and Cala Turqueta (one way) is 6.5 km, which roughly translates into a 90-minute walk, passing by Cala Macarelleta on the way. It's also worth mentioning that these paths are part of the legendary Cami de Cavalls, a 200-kilometer pedestrian route that runs along the entire coastline of Menorca.
In the afternoon, you'll slowly make your way up to Ciutadella, Menorca's second-largest city. Just outside the town, we recommend visiting two equally interesting spots. With the fabulous Naveta d'Es Tudons (2,00€) standing out as the most important and well-preserved megalithic construction on the island, it served as a collective tomb for over 100 people and helps shed light on the funeral rites of a civilization with thousands of years of history. Only 1 km away from the city, it's well worth a quick visit to Pedreres de s'Hostal (7,00€), a former quarry that was converted into a cultural space in 1995. The end result is a delightful complex sculpted directly into the rock, with gardens, labyrinths, statues, staircases and artistic monuments. Once you finally make it to Ciutadella, you'll spend a few hours exploring its medieval streets and baroque palaces, which help showcase its status as the former capital. Start your journey at the Old Port and visit the Town Hall before heading up to Plaça des Born and marveling at the Cathedral of Santa Maria. To cap off your day, visit the entrance of the new port of Ciutadella and watch the sunset next to the small Castle of St. Nicholas, one of the city's most iconic buildings.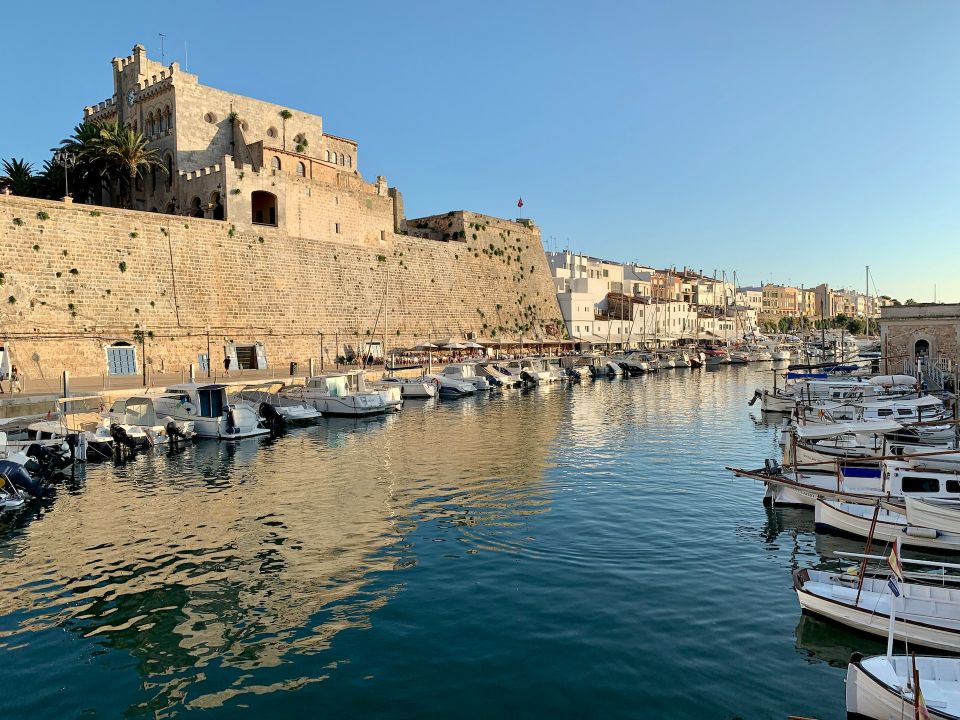 Third day wrap-up:
Cala Mitjana
Cala Macarelleta
Cala Turqueta
Naveta d'Es Tudons
Pedreres de s'Hostal
Ciutadella
Old Port
Town Hall
Plaça des Born
Cathedral of Santa Maria
Castle of St. Nicholas
Cheap restaurant suggestions in Ciutadella:
Menorca 5-Day Itinerary – Day 4: El Toro and the North Coast
Time to explore the island's stunning northern coast! To get a glimpse of what lies in store, climb to the top of Mount El Toro, the highest point on the island. On a clear day, you can even see the coast of mainland Spain on the horizon. While you're there, visit the Sanctuary of the Virgin of El Toro near the summit. Before heading down and start hopping from one beach to the next, stop by the charming village of Fornells, the only place in the area where you can easily find cafes and restaurants. While you're there, check out the Fornells Tower (2,40€), another strategic point in Menorca's long and complex defense structure.
From there, venture out to explore the coves and pristine beaches of the island's northern coast. With so many options available, we recommend starting at Cavalleria Beach, officially located in a protected area, before heading to more secluded spots that lack most of the services that beachgoers expect. For a different experience, marked by red sand and dramatic cliffs, don't miss Cala Pregonda, before ending your day in the northern coast at Cala Pilar, only accessible via a 30-minute hike through the forest.
Fourth day wrap-up:
Mount El Toro
Sanctuary of the Virgin of El Toro
Fornells Tower
Cavalleria Beach
Cala Pregonda
Cala Pilar
Cheap restaurant suggestions in Fornells:
Menorca 5-Day Itinerary – Day 5: Albufera des Grau Nature Park
As your adventure on the beautiful island of Menorca comes to an end, it's time to bid farewell with a final long walk through the stunning Albufera des Grau Nature Park, perhaps the most popular protected green area on the island. Designated as a Biosphere Reserve by UNESCO in 1993, this enormous park – covering more than 5000 hectares – is a true outdoor enthusiast's playground. To get a better idea of which trails to take and which areas to avoid, we recommend stopping by the Rodríguez Femenías Interpretation Center, which happens to be the starting point for at least two of the park's most popular hikes.
During your walk, you can stop at all the countless viewpoints, forests, and, of course, at the various local beaches hidden among the park's dense vegetation. For your grand farewell, head to the isolated Lighthouse of Favaritx and say goodbye to Menorca for the last time. On your way back to civilization, you can complete more of the Cami de Cavalls, which we mentioned earlier in this Menorca 5-day itinerary.
Fifth day wrap-up:
Albufera des Grau Nature Park
Rodríguez Femenías Interpretation Center
Lighthouse of Favaritx
Cami de Cavalls
Main photo: Unsplash
This post contains links to products from our advertisers. We may receive compensation when you click on these links. There are no additional fees for you.

Copyrighted 2023 by kamaviNET sp. z o.o. Please be aware that this article and whole website is copyrighted. No part of this publication may be reproduced, distributed, or transmitted in any form or by any means without the prior written permission of the publisher.